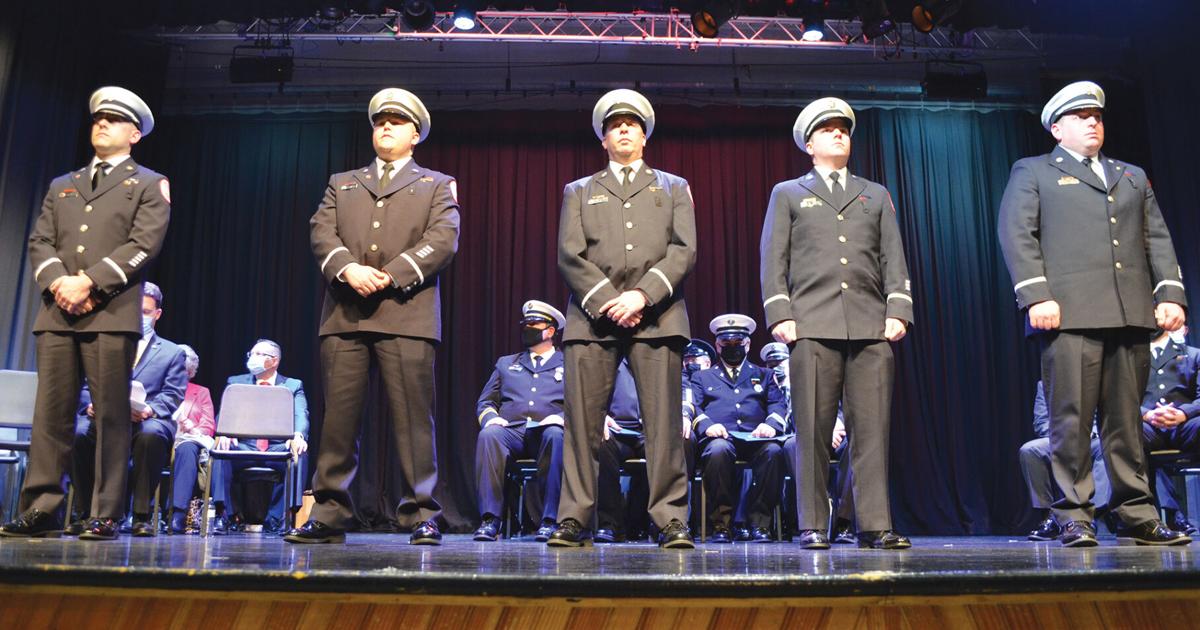 26 Recognized at WWFD Promotion and Swearing-In Ceremony | Kent County Daily Hours
WEST WARWICK – In front of a room full of loved ones, more than two dozen members of the West Warwick Fire Service were honored this week at a promotional and swearing-in ceremony held at the West Warwick High School.
"We are here tonight to honor and recognize the initiative and dedication of our 26 recipients, who have chosen to become current and future leaders of the West Warwick Fire Service," said Chief Jeffrey Varone, standing on scene in the high school auditorium.
Thirteen recruits were sworn in at the ceremony Thursday night; 13 others, whose combined service time equals 250 years, have been recognized for promotions.
Each, Varone added, exemplifies the fire department's core values: "Pride, Honor, Integrity, Respect and Bravery."
The ceremony opened with a presentation of the colors by the West Warwick Fire Department Honor Guard, led to the stage by the Rhode Island Professional Firefighters Pipes and Drums Band. Pr. Paul Lemoi, of the Church of Notre-Dame du Bon Conseil, pronounced the invocation.
Seated on stage, alongside those honored were State Representatives Patricia Serpa and Tom Noret; West Warwick City Manager Mark Knott; Rhode Island State Fire Marshal Tim McLaughlin; and West Warwick City Council Vice-President Maribeth Williamson, along with councilors Jason Licciardi and Jason Messier.
"After serving in our police service for over 27 years, I had the privilege to work with many of you," Knott said from the podium Thursday, "and I have a deep respect for the many duties of a firefighter."
Before continuing with his remarks, Knott took a moment to remember Kenneth "Hoppy" Hoskin, a fire department dispatcher who died while on active duty in April 2020.
"Hoppy will always be remembered for his gregarious personality and unique radio voice," said Knott, who recalls listening to Hoskin while working the night shift years ago.
Six recent retirees were also recognized: Lt. Louis Traficante Jr.; Lt. John Botello Jr.; Lt. William Leahy; Captain Christopher Seelenbrandt; Lt. David Studley; and dispatcher Albert Clarke. Together they served the city for 161 years.
After a brief introduction by Battalion Chief Eric Norberg, the evening's emcee, recruits and graduates each took their oath, administered by West Warwick Town Clerk Sarah Rapose, before being pinned a badge by their relatives.
"By this oath, [Rapose] delegates a trust to our members for the safety of the people of our city," Varone said. "The oath has been sworn to firefighters for 70 years. It is our duty to be there when people are in need.
Three members of the West Warwick Fire Service were recognized for their appointments to the department's fire prevention division and three for their appointments to the fire communications division.
These six appointees are responsible, Varone said, for providing services that "make the town of West Warwick a safer place to live and work". He said they are responsible for keeping abreast of the latest codes and enforcing those codes, investigating fires and fostering a positive image of the city and the department.
"I know you have all the knowledge, confidence and integrity to be effective in your divisions," he added.
For his appointment as Fire Marshal, Lieutenant Matthew Manni, who joined the West Warwick Fire Service in 1995, was the first to be recognised.
Captain Keith Medeiros, a 32-year veteran of the West Warwick Fire Service and its former fire inspector, was honored for his appointment as assistant fire marshal.
Pvt. Joshua Martin, who joined the West Warwick Fire Service in 2010, has been credited with being appointed as a fire inspector.
Lieutenant Arthur J. Houle III is appointed director of communications. Houle joined the department in 1999 and became a member of the department's fire communications division as a fire alarm technician in 2017.
Lt. Paul Lague, who was sworn in as a private with the department in 2005, took over the role of fire alarm technician.
In addition to being promoted from private to lieutenant, Donald Johnson, a member of the department since 2008, was named deputy director of communications.
Five others were also recognized for their promotions from private to lieutenant: Rocco Pastore, who joined the department in 2007; Ryan Simko, who joined in 2010; Richard P. Hart Jr., who joined in 2010; David Lemoi, who arrived in 2011; and Benjamin Marsland, who also joined in 2011.
Two former lieutenants were awarded for reaching the rank of captain: Paul McAllister, a 28-year veteran of the West Warwick Fire Service, and Scott Baughan, who has been with the service since 1998.
"With your promotion comes great authority; with that authority comes great responsibility," Varone told captains and lieutenants. "Make no mistake, as the West Warwick Fire Service Chief you will be tested."
Among the department's newest firefighters, Pvts. Brian Boisclair and Michael Pecchia, Rhode Island Fire Academy Class of February 2019, and Pvt. Joseph Fausey, from the academy class of August 2019, were all recognized.
From the Fire Academy February 2021 class, Pvts. Ronald Xavier, Coleman Clark, Shane Newton and Cole Walter were also recognized.
And finally, starting with the class of May 2021, Pvts. Nicholas Fascio, Matthew Marzella, Nicholas Melucci and Stephen Lombardi were also sworn in on Thursday.
The new firefighters have gone through "some of the best firefighter training in the country," Varone said, adding he has "the utmost confidence" that each will meet the department's high standards.
"You have proven that you have the dedication, skill and courage to represent the best department in the state," he continued. "Throughout your career, you will need to make life-saving decisions, as well as risk your own life, to protect the residents, businesses and visitors of this city."
Two dispatchers were also sworn in on Thursday. Thomas Jessop joined the department as a trainee dispatcher in May 2020, after a 30-year career as a member of the Warwick Fire Service; Louis Charello served as a firefighter for 32 years in North Providence before joining West Warwick as a trainee dispatcher in December 2020.
"Adding this level of experience to fire alarm dispatch operations is rare and invaluable," Varone said of the new dispatchers' combined experience. "I am delighted to welcome them to the West Warwick Fire Service."
Lt. Jim Rita, president of the local firefighters union, also spoke briefly. After congratulating the graduates and rookies, Rita thanked all members of Local 1104 for their service throughout the coronavirus pandemic.
"This local objected to so many strangers…but they still came to work, every day," he said. "They had to deal with ever-changing policies and protocols; this local served this city without wasting any time."
Rita also congratulated Varone for his tireless work over the past two years, before presenting him with a plaque on behalf of the union acknowledging "the leader's leadership and dedication to the members of Local 1104 during the COVID-19 pandemic. ".
Serpa and Noret also took the time to recognize the 26 winners, whom Serpa called "pride for the city".
Many of those recognized come from families with fire departments in their history, Varone said Thursday, while others could start a fire service legacy that will span generations.
"Either way," he continued, "tonight's ceremony demonstrates the high regard in which firefighters are held by this department and the city."