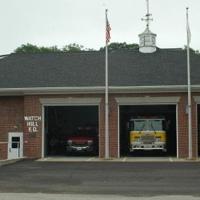 At Watch Hill Fire Department Open House, 'Real Heroes Don't Wear Capes' | West
The first Wednesday in August is a big day for local first responders, as it's the day the Watch Hill Fire Department holds its annual Fire Prevention and Fire Safety Night.
The annual event, where residents can stop by and interact with first responders in their community, provides opportunities to learn about fire safety, the Point Judith Coast Guard Station and its mission, and even what it's like to be an explosives operations technician.
"It's all about fire prevention, community education and giving back to the community," said Deputy Chief Chris Koretski. "Taxpayers fund the fire department, so we want to show them the device, we want to host them, have dinner and give them items to promote the fire department and fire safety throughout the year."
The open house, held Aug. 3 from 6-8 p.m., offered an array of interesting first responder vehicles that visitors – especially children – could jump into to feel what it's like to be driving. Crowd favorites on Wednesday were the older trucks of the Watch Hill Fire Department, the first motorized fire truck purchased by the town of Westerly in 1917 and another 1953 model dubbed "Seagrave."
Tickets were distributed to visitors who wanted ice cream. All manner of food and toys were handed out, burgers and hot dogs galore, as well as Frisbees and little plastic fire helmets for the kids.
Many of the first responders in attendance brought their own work-related pieces to show. Officers from the Westerly Police Department demonstrated the K9 unit attack training process, featuring Demon the German Shepherd. This was followed by a display of flammable substances, a demonstration of odor detection procedures by fire investigator Hannah Burnes of the state fire marshal's office, and Dream the arsonist dog.
Throughout the evening, State Fire Deputy Marshal Bruce Quinn demonstrated a bomb disposal robot and had various bomb models to display for informational purposes. Guests loved donning the bulky bomb blast suit, which is capable of protecting officers with up to five pounds of C4 explosives.
"We try to change it up a bit every year," Watch Hill Fire Chief Dennis Reall said.
The demonstrations and exhibits were a hit with visitors.
"I love it. There are lots of activities here for kids," said Alaa, a local mother and event attendee who declined to give her last name. , and they answered everything."
When her daughter, Talia, was asked what her favorite time of the night was, she raved about Demon the Police Dog, among other things, like "eating ice cream."
Logan Simmons, son of Watch Hill Deputy Fire Chief Jason Simmons, agreed that his eight years of attending this event have been rewarding and that he has enjoyed learning about stop, drop and roll and meeting Sparky the Fire Dog.
Although the event included a heavy dose of fun, the most important element was educational, Simmons said.
"It's an opportunity for people to recognize first responders and know what they're doing for their community," Simmons said.
As one of the information banners hung at the station said, "Real heroes don't wear capes."