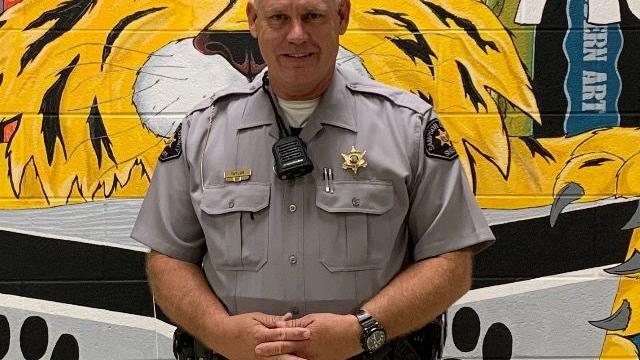 Capitalizing on a Second Career | Local
KENANSVILLE – EMT, firefighter, fire chief and law enforcement officer are all titles Donnell Taylor has held over the years. Taylor has served areas of Duplin County and Sampson County through a variety of careers. Even after his retirement, Taylor made a commitment to continue working. Taylor says, "I always felt like I had good years left!"
Taylor displays a resilient attitude towards complacency in his season of life. Taylor intentionally sought out opportunities and challenges to experience professional development. Even after thirty years of dedicated work as a social worker for the school system, Taylor continued to seek ways to serve the community with excellence. Those who know Taylor find his courage impressive and inspiring.
Taylor's character and drive has always been impressive to Perry Powell, who is a fire technician for the JSCC Continuing Education Department.
"Donny Taylor was my fire chief when I changed fire departments after moving to Faison in 2009. Since then, I've known him to see things from all angles in order to formulate the best plan. In addition, he cares about the state of his community. He is never afraid to speak out for something he is passionate about or which he believes does not benefit the community.
Taylor took continuing education and curriculum courses at James Sprunt Community College. In the early 1990s, Taylor was involved in JSCC's BLET programming. Taylor was a firefighter and fire chief and was equipped for both roles through courses at JSCC. Taylor even took EMS lessons.
"I am retired from the school system and am now entering a second career in law enforcement," says Taylor. Taylor served the school system for about a year and a half. "Thanks to JSCC's BLET program, I have the opportunity to have a second career and a second retirement.
Taylor was willing to take the risks that many continuing education workforce development students take through JSCC.
"I have been certified by the Sheriff's Office since the 90s, but at 55 I made this big career change. I'm just too young to quit!
Taylor explains that working as a school resource officer for the school system is not that different from the work he did as a social worker in his previous career. "I love children and have found it to be the best career for me! Currently, Taylor primarily serves Sampson County.
Like many students, Taylor credits JSCC for the important role it plays in career satisfaction.
"Well over 2,000 CEU credits that I got I got through JSCC," Taylor said. He took so many classes with JSCC that he had a hard time remembering the names of his instructors! "2,000 CFU is a lot. " he added.
When asked what he loves most about his current job, he is quick to respond, "I really went into the law enforcement business with the goal of helping people. I feel like as an SRO officer I have a proactive approach. In law enforcement, you often have to deal with things that have already happened. As an ORS, I work with teachers and administration to deal with issues. You do community policing in schools. Taylor describes being an SRO officer as patrolling a town. "Sometimes I have the opportunity to advise students. I find it more rewarding than anything I have done during my working time.
JSCC would love to partner with you as you work towards achieving your career goals at any stage of life. You can contact Hannah Smith at [email protected] today for more information about our continuing education and workforce development courses here at JSCC.