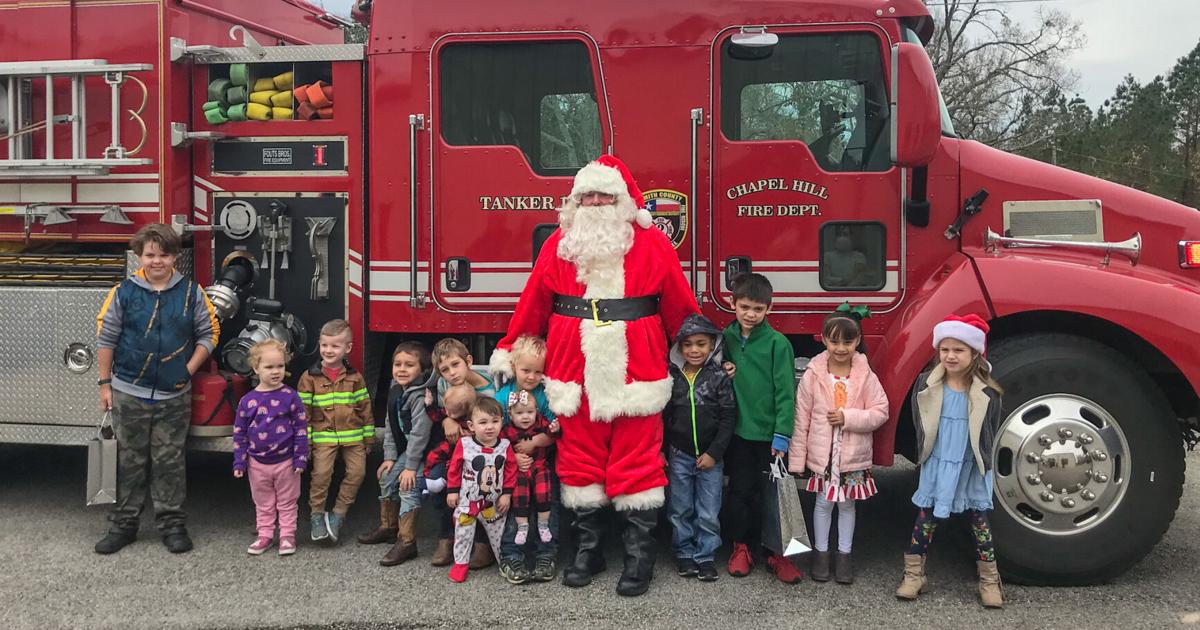 Chapel Hill Volunteer Fire Department Celebrates Second Annual Breakfast With Santa Claus | News
An East Texas fire department's mission to engage the community with its fire station was the primary focus of Saturday's Breakfast with Santa event in Chapel Hill.
Children who attended the event received a free breakfast prepared by the firefighters and returned home with three books as a gift. The most memorable part, however, was Santa Claus.
Chapel Hill Volunteer Fire Department firefighter Becky Barron coordinated the special Christmas event, which began a year ago when the number of COVID-19 peaked in the winter.
"I wanted to do something for the kids because they weren't going to see Santa Claus," Barron said. She added that through the stress of life, children sometimes need to grow up faster. Keeping little traditions like these, she said, helps them hold onto the childhood they have left.
With the intention of involving the community with the fire department, the breakfast has been extended to all families in the Chapel Hill community.
This year, several residents got involved by donating books to give to children who attended the breakfast. Some donated books to firefighters and others left books in a donation box at a nearby gas station. About 75 books were donated.
Barron said she hoped the event would help children who might not receive gifts.
Chapel Hill Fire Chief Dale Peterson said he was using the event to educate children about fire safety.
"We do this a lot throughout the year, especially in October for (Fire) Prevention Week," Peterson said.
Here are some tips he shares with children:
If there is a fire: Stop, drop and ride
Know who to call: 9-1-1
Know their name, address and place of residence
Communicate what's going on
Get out and stay away from the fire
Peterson's 13-year-old granddaughter Maggie Peterson said having breakfast with other kids in the community and seeing Santa Claus was fun and different from last year's event.
"It was better (this year). More people came and had more community and service and all that, "Maggie said.
Peterson's grandson Abraham Gonzales, 9, said he had pancakes in syrup and got three books: a coloring book, a "The Nutcracker" book and a "The Magician" book. Oz ".
Gonzales said that if he could meet the people who have donated books, he would thank them and let them know that he really loved his books.
"(The kids) are here because of Santa Claus, that's what they love to see, but I hope as the kids get older they start to learn prevention, what to do if they're alone at home, how to handle themselves or any kind of emergency, "said Peterson.
Peterson said the event will become an annual celebration and can't wait to start again next year.