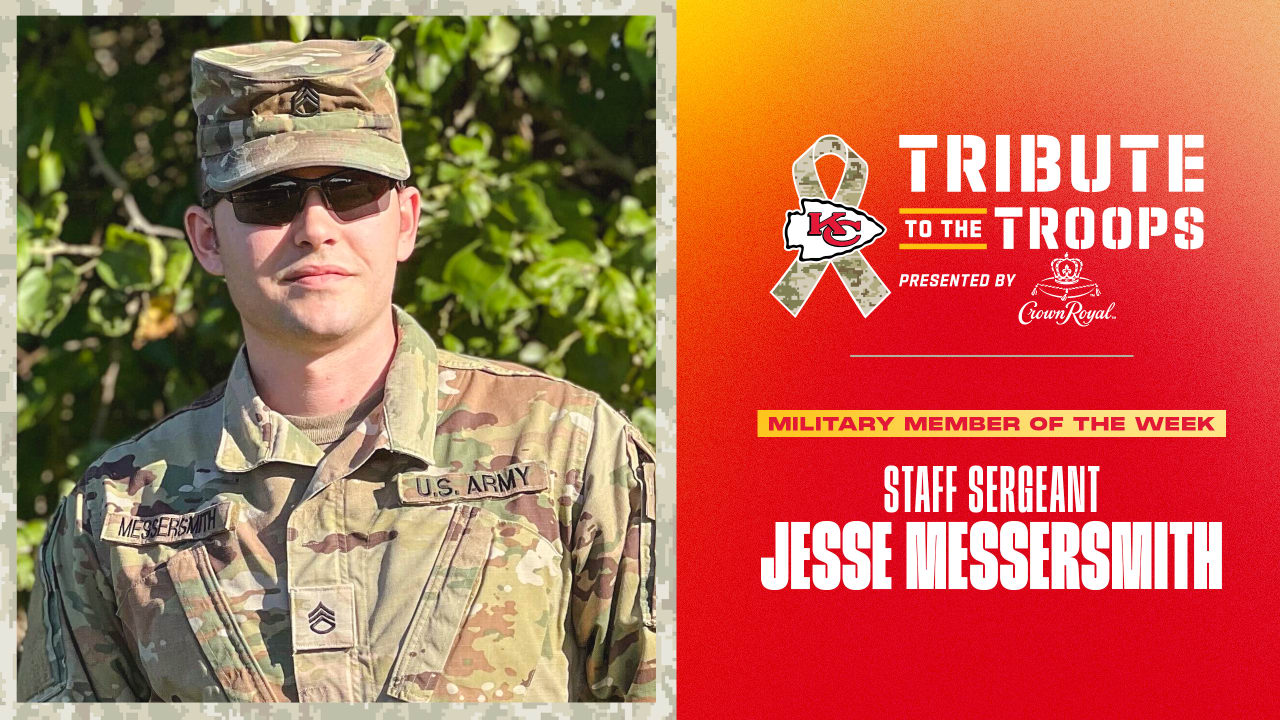 Chiefs recognize Missouri Army National Guard NCO Master Sgt. Jesse Messersmith as this week's tribute to Honored Troops presented by Crown Royal
On the morning of August 20, 2020, Staff Sgt. Messersmith was driving northbound to work on Highway 63 just outside of Westphalia, Missouri. Messersmith observed a vehicle traveling at high speed, swerving off the road, then crashing into a tree and catching fire.
Not caring for his own safety, the brave Missouri Army guard parked his car and rushed on foot to the scene of the accident. He began one of several attempts to extract the initially unresponsive victim from the flaming wreckage while trying to signal other passing vehicles to help him. Nobody else stopped.
Messersmith's dogged determination, cool head and quick action paid off, eventually extracting the now conscious victim from the burning vehicle. The Vienna, Mo., native dragged the injured driver up an embankment and a safe distance from the burning wreckage until Westphalia volunteer firefighters arrived and began extinguishing the flames. The victim and Messersmith would live to tell their story.
It was only shortly after the incident that the army non-commissioned officer realized that he had been injured. During the ordeal which lasted a few minutes, Messersmith suffered minor injuries when the vehicles' tires began to explode from the intense heat, strewing the sergeant's face with bits of debris.
When asked why he stopped at the scene of the accident that day, Messersmith said: "It has to do with why I joined in the first place: I just wanted to help. others, and the Army National Guard gave me the opportunity to do that."
Messersmith joined the Missouri National Guard on October 29, 2009, at the age of 17.
"I was nine years old when 9/11 happened. That moment is one of the main reasons I wanted to join the army. I always wanted to join the army, but 9/11 September was what motivated me the most. I continue to serve in the Army National Guard because through the Guard I can help my community here in Missouri as well as communities overseas who have also need help."
Staff Sergeant Messersmith is assigned to Joint Force Headquarters in Jefferson City, Missouri, where he currently serves as the unit's supply sergeant – the military spokesperson for the person in charge logistics, shipping and receiving of the unit.
"My job is to make sure all troops have what they need to complete their mission," Messersmith said.
In his spare time, Army Staff Sgt. enjoys spending time with his wife Jessica, also a sergeant in the Missouri Guard, and their three boys Dreygen, 11, Eli, 10, and Jansen, 4.
Moreover, the Messersmith family is also excited about the home opener.
"We have never been to a professional sporting event, so being able to visit [GEHA Field at] Arrowhead this week alone is going to be a cool experience," he shared. "But being recognized for my service to my country in front of my family at my first football game is something I never would have imagined. I'm so grateful to everyone who recognized me for this once-in-a-lifetime experience, and I'm grateful to the Kansas City Chiefs for the opportunity to do it here."