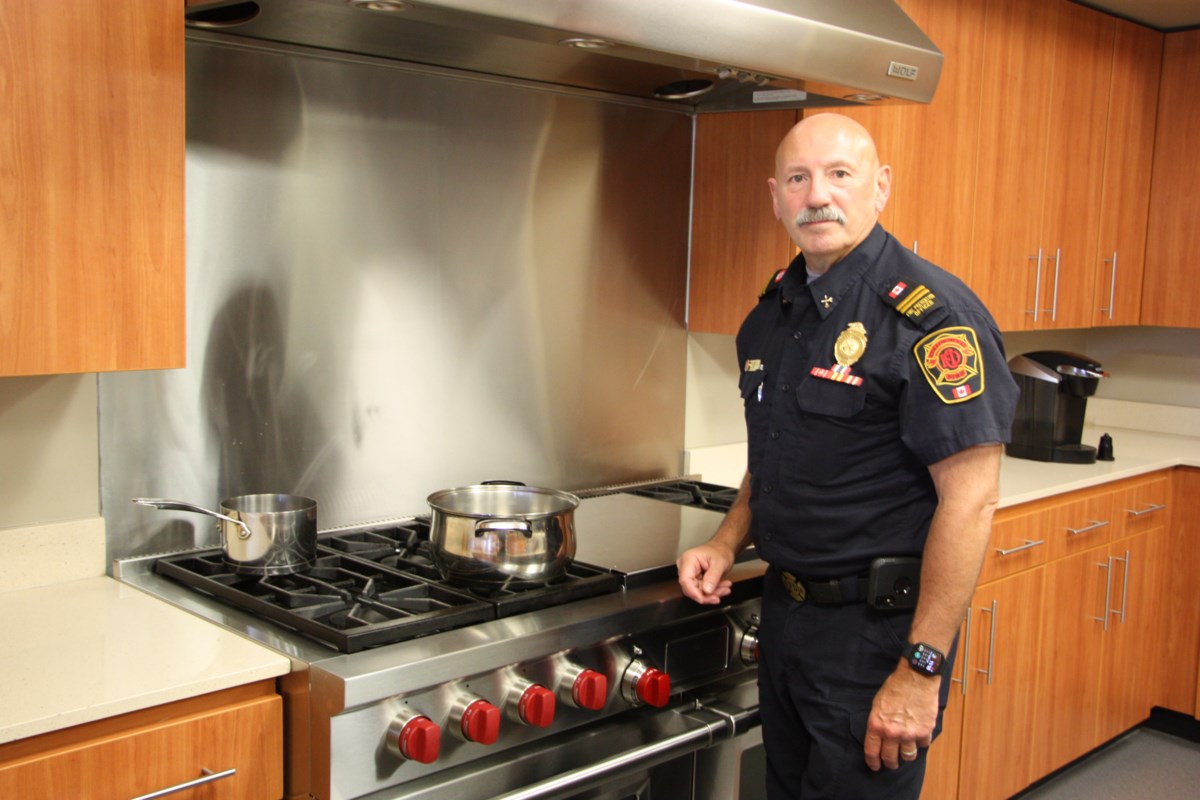 Collingwood Fire Department offers tips for kitchen safety
The Collingwood Fire Department Fire Prevention Team will be at the Collingwood Farmers Market on October 1
The kitchen is the number one cause of home fires in Ontario.
Collingwood Fire Prevention Officer, Carl Prochilo's monthly safety message for the community this month is to be careful when cooking food and take safety precautions in the kitchen.
The most common type of cooking fire is a grease fire. A grease fire is extremely dangerous because it can quickly get out of control and spread from the stove throughout the kitchen and other rooms in the house. Many grease fires happen because someone leaves a frying pan on the stovetop unattended. That's why the Collingwood Fire Department wants to emphasize the importance of kitchen safety. Cooking with friends, family and/or yourself can be fun or a chore, but whatever the situation, remember these safety tips to keep you and others around you safe.
Always wear oven mitts when handling hot objects

Keep combustibles a safe distance from your stove

Keep flammable objects away from your stove

When cooking, stay in the kitchen and be careful

Avoid cooking when tired or under the influence

Always make sure the stove is off when you leave the kitchen or your house

Do not wear loose clothing while cooking

Have a child-free and pet-free zone (3 feet/1 meter) around the stove while cooking

Never leave your stove unattended when cooking
Following these safety tips will help reduce the risk of a cooking fire. Unfortunately, even when you take precautions, things can happen, so it's important to know what to do in the event of a fire. If a fire breaks out, get out immediately and stay out! If you can, close the door behind you to help contain the fire and call 9-1-1 from a safe location outside.
When cooking with oil, always have a lid handy to use in case of fire. You can slide the lid over the pot or pan to contain the fire and smother it. Turn off the stove and leave the pot or pan covered until it is completely cooled.
If a fire breaks out in your oven, simply turn off the oven and keep the door closed. This will allow the fire to extinguish itself.
Microwave ovens are safe appliances, but if you accidentally place a twist tie or other piece of metal inside an oven, an "arc" can occur and present a hazard. In the event of a fire, unplug the appliance and do not open the microwave door until the flames are extinguished.
Thinking of buying a fire extinguisher? Fire extinguishers are designed to put out small fires. Consider getting a fire extinguisher and keeping it accessible somewhere in or very close to the kitchen. When using a fire extinguisher, make sure you have a clear way out and everyone is already outside. Never put fire between you and your exit. Remember your first priority is to get out and stay out, call 9-1-1.
Cooking can be a fun activity to do with your kids, but keeping them safe should be the number one priority. The first step to keeping your children safe is to keep them away from the stove or create a "kid-free zone" by keeping them at least one meter (three feet) away from the stove while cooking.
Make sure electrical cords do not hang over counters, where they could be pulled by young children

Always place the handles of your pots or pans facing the back of the stove and use rear burners whenever possible to keep them out of the reach of children.

Make sure hot objects, liquids and foods are in the center of the counter or towards the back to keep them out of reach of children
There is always a chance that something unexpected will happen, so if you or a child come in contact with a hot object, liquid or food, you need to know how to treat a burn quickly and effectively.
Cool the burn: Run cool water over the burn for 3-5 minutes, this will help stop the burning process and decrease pain and swelling.

Cover and Protect the Burn: Cover the burned area with a clean dressing that won't stick and will keep the area clean and protected to reduce the risk of infection.

See a doctor: If you think the burn is too bad to treat yourself, see a doctor.
The most important way to keep you and your family/friends safe at home is to make sure you have working smoke alarms on every floor of the house and within three meters of all sleeping areas . Have an escape plan. If you are cooking and the smoke alarm sounds right after normal cooking and there is no fire, open the door or window and ventilate the room. Do not disable the smoke detector or remove the batteries.
Reduce your chances of having a cooking fire, make sure you know what to do if a cooking fire does occur, and provide ways to keep your kids safe in the kitchen. For more information, contact the Collingwood Fire Department Fire Prevention Division at 705-445-3920.
Come and visit our stand at the Collingwood Farmers Market on Saturday October 1st.