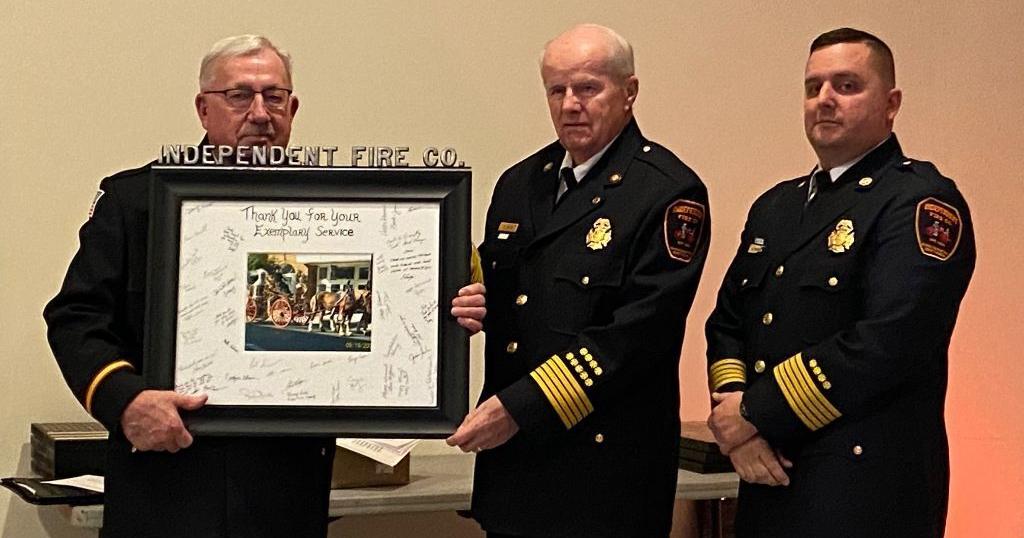 Independent Fire Company honors its own | Newspaper
RANSON – Members of the Independent Fire Company gathered on Saturday evening to recognize and honor those within their ranks who have rendered outstanding service to the community in 2020 and 2021.
While the company traditionally holds its recognition banquet each year, the event was canceled in 2021 as the Covid-19 pandemic continued to force closures. In making up for the lost year, company executives combined two years of awards into one evening.
In his welcoming remarks, Company President Ed Smith said the volunteer service has served the community for 137 years. He requested that all life members of the company be life members defined as 20 years of service or more. He then called on active duty members to stand alongside the Jefferson County Auxiliary and Emergency Service members who provide paid assistance to Company 4. Smith referred to all of these people as "guests." of honor "during the dinner.
Just before dinner was served, Fire Captain Billy McDonald spoke about those who had fallen in the line of duty during the Independent's long service. The company has lost two members in its many years. Roger Clipp lost his life in service in December 1937 while Raymond Huffnagel fell in January 1975.
McDonald's also acknowledged the loss of firefighters at nearby businesses over the past two years, including Logan Young, who died in December 2020. Young was a firefighter with the 167th Air Guard in Martinsburg. Also remembered is Battalion Commander Joshua Laird of Frederick County, Maryland, who died in August 2021.
"Let's not forget them," McDonald said, raising a glass to toast the dead.
After dinner, Fire Chief Adam Watson said the Independent Fire Company has continued to serve his community, making thousands of calls over the past two years.
"While Covid had blocked the rest of the world, that hasn't stopped IFC from answering 3,128 calls in 2020," Watson said. This included 576 fire and rescue calls, 2,116 emergency medical service calls and 428 miscellaneous calls.
"In 2021 our numbers jumped 10%," Watson continued, sharing that during that year the department answered 3,448 calls split to include 591 fire-related, 2,439 EMS and 418 miscellaneous.
The purpose of the evening was to recognize members of the department who served over the two years. Watson presented awards for both years at the ceremony for the evening.
Trevor Longerbeam was selected as EMS Provider of the Year for 2020, who made 88 calls as a paramedic. Rachel Moran received the award for 2021, which recorded 134 EMS calls for the year. The EMS Agent Recognition went to Brandon Carroll for 2020 and Matt Minnick for 2021.
The Firefighter of the Year for 2020 went to Longerbeam, who made 132 fire calls for the year while Harry Burns was selected as the 2021 recipient with an astounding 452 fire and rescue calls. to his credit for the year. Firefighter selections included Michael Schweitzer for 2020 and Daniel Turner for 2021.
Watson recognized Rookie of the Year for 2020 and 2021. Matt Minnick has been selected as the recipient for 2020 while Brian Honea has been given the go-ahead for 2021. Watson also recognized junior team member Zach Lehman.
Watson selected McDonald's as the recipient of the 2020 Chef's Award.
"Captain. McDonald has excelled in this department by being brought up at an early age and working his way up to the rank of captain," Watson said. "His progressive ideas help make this department one of the leaders in the world. region."
Watson chose President Ed Smith to receive the 2021 Chef's Award.
"He [Smith] has been my biggest supporter and critic, "Watson said. "He's given me so much advice over the past 21 years," he added.
During the evening, members of the company acknowledged the service of Jack Wysong, who received his badge of 55 years of service which would have been awarded in 2020. Wysong was treasurer of the company for 34 years and has resigned this year.
"Jack has kept us within our financial means and controlled our spending," Smith said.
"I have been active at Independent for 56 years," Wysong commented when presented with an award for his service. "I was treasurer for 34 of them and vice-president for 10," he added.
"I am not leaving, but I am leaving the administrative part," he said. "I entrust the work of treasurer to a very competent person, Terry [Carper]," he added.
Years of service recognitions as well as those of Wysong included for 2020 Derek Morrow with five years, Brandon Carroll with 10 years of service, Tara Hough and Mike Schweitzer each with 15 years; Adam and Aaron Watson totaling 20 years; and Donnie Lanham who shot 30 years old. IN 2021, RJ Hahn turned five while Brandon McKenzie and Brian Stump both celebrated their 10th birthday. Billy McDonald and Ian Dunn signed 15 years and Henry Christie celebrated 35 years with Independent Fire Company.
Auxiliary Treasurer Susan Hahn took the opportunity to present Carper with a check for $ 4000 from the Auxiliary which was raised through the limited fundraising the group was able to raise.
"We have a lot of events planned for the coming year," said Tina Fewell, Assistant President.
Retired Magistrate Gail Boober was on hand to take the oath to all new officers.