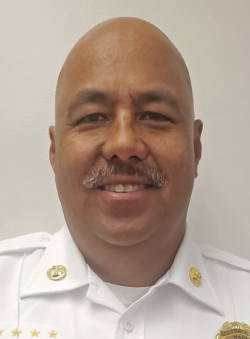 Lindo promoted to assistant. Chief
Wednesday, March 9, 2022 By press release

Maui Fire Department Press Release
A Molokai member of the Maui Fire Department was among those who received promotions recently announced by Fire Chief Bradford Ventura.
Molokai's Henry "Hanale" Lindo has been promoted to Deputy Chief of Operations. Other promotions are Jeffrey Giesea was promoted to Deputy Chief of Support Services; Lee Theros, Shawn Rogers and Alexander Parker were promoted to battalion commander; Darrin Almeida, Garren Oura, Beau Gaddis, Kanoa Shannon, Anthony Twarowski, Matthew Akiona, Joseph "Ikaika" Blackburn and John Devlin were promoted to fire captain; Daniel Laferriere and Steven Graver were promoted to Fire Fighter III.
Lindo joined the Maui Fire Department in 1994. He served as Firefighter I in Paia and Kahului. In 2005, he was promoted to Firefighter III and served as a fire inspector with the Bureau of Fire Prevention. Lindo was promoted to fire captain in 2009 and worked in both Ho'olehua and Kaunakakai on Molokai. Promoted to battalion chief in 2020, he leads the first battalion. With his promotion to Deputy Chief, he will oversee the operations of the entire department.
Lindo graduated in 1990 from Kamehameha Kapalama Schools. He served as Incident Commander and Liaison Officer for the All Hazards Incident Management Team, Public Education Officer for the MFD, and was part of the Molokai Fire Task Force and the Center Community Team. Molokai emergency operations. Lindo and his wife Zhantell live in Ho'olehua and have eight children and 14 grandchildren.
All promotions are effective February 16 or earlier.