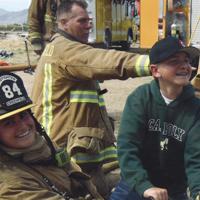 Meet the teenager whom the firefighters and police of Salinas face and who follows them on his bike. | 831 (Tales from the area code)
Helping out with taking pictures of fires is awesome, but 14-year-old Jackson Lemmon can't wait to let go of the camera and join the adrenaline rush of fighting the fires. Beloved by both the Salinas Fire Department and the Salinas Police Department, it has been a part of their lives for two years, documenting the work of both agencies.
A few years ago, firefighters and police started seeing this kid, then barely 12, apparently listening to the scanner and responding to emergencies, rushing towards fires and bicycle accidents. "They started to recognize me," Lemmon says. "And I created an Instagram account and I created an audience."
Soon his photos were posted on the agencies' official social media accounts and before he knew it, Lemmon began receiving invitations for other occasions, like agency promotions, a sign that they had started to really rely on him.
"We joke that Jackson is our internal PIO," says Salinas Fire Chief Michele Vaughn, a firefighter with 22 years of experience (a PIO is a public information official). She met Lemmon "a few years ago," she says. His mother used to bring him on visits to the station and very early on he showed an affinity for firefighting devices. "It was cool to watch him grow up. At one point he started to ride his bike to the stages, helping us tell the story, "Vaughn says.
Around Easter 2021, however, Lemmon's bike was stolen. "It happened in five minutes. Whoever that person was, they left their [very shabby] cycling, so… I guess it was a job, "he says bitterly but not without humor. The family denounced the theft and a police officer came to make a report. "Then he came back and spoke to my mom in private, so I knew something was going on," Lemmon says.
As it turned out, local firefighters and police decided Lemmon's bicycle services were essential and decided to replace his means of transportation. "He's a very lively and intelligent young man," Vaughn says, calling his work "very constructive." (Before clapping for the happy ending, be aware that Lemmon is still waiting for his new bike, due to challenges with the supply chain.)
No wonder there is a debate in Salinas as to which agency Lemmon will eventually join, but it looks like the decision has been made. In fact, it was made a long time ago. He would always ask his mother or grandmother to take him to the fire station, he was one of those super kids who love fire trucks. Like many firefighters, Lemmon enjoys the energy of fire, but that's not what draws him to the job, he says.
"It's about the bond," he said. "A team is a big family; firefighters really get to know each other because shifts can last 48 hours and there is a sense of community. There is so much going on behind the scenes at the fire station: they eat together, have fun, do paperwork.
It's funny? Well, maybe not the papers.
Anyone can be a firefighter, says Vaughn – "Anyone who really wants to and has good lungs," she corrected herself. And they need people like Lemmon, "a local kid," Vaughn adds.
The requirements for the job are pretty minimal and they start with being 18, having a high school diploma and a driver's license.
"I know a 10-year-old girl in Salinas who aspires to be a firefighter," says Vaughn. "She comes to old Station 6 a lot." The genre ceased to be a problem a long time ago. In California, women and minorities filled fire stations decades ago, Vaughn says, and at one point she worked with 13 other firefighters in Salinas.
"There is a joy to be in action," says Lemmon. "There is an adrenaline rush and it's fascinating to see how emergency action unfolds. And, you know, helping people and maybe saving lives is awesome. "
When told that despite the battle between fire and police, Lemmon's heart is on the Salinas fire, Vaughn smiles in delight, "It will be quite an honor." It is ours.