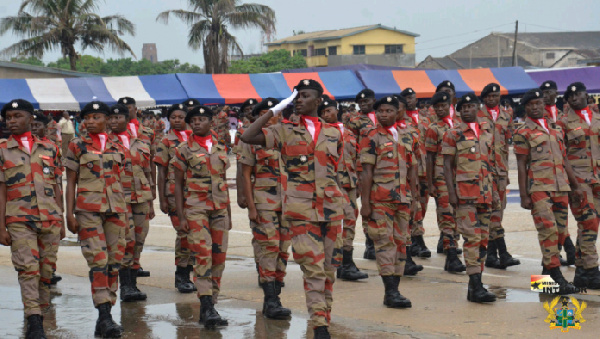 More than 500 firefighter recruits pass out
A few recruits at graduation
Five hundred and sixteen (516) fire service recruits have passed out after undergoing intensive nine-week training at the National Fire Academy and Training School (FATS) in Accra.
The graduation ceremony took place at the FATS campus in James Town, Accra on Saturday July 2, 2022.
Recruitment Course 54 included 294 men and 222 women. They were the second group to successfully pass out of FATS after completing their attachment in the various regions.
During the fainting parade, Interior Minister Ambroise Dery in his address congratulated the recruits for completing their training and reminded them of the sacrifices required in the profession they have chosen.
He further instructed them not to rely on their oars but to continuously strive to discharge their duties with high professionalism.
"I am impressed with the rookies' smart participation and excellent display of excellent parade and formation skills. I have no doubt that this is just the tip of the iceberg of the knowledge and skills imparted to you during your training period.
"I urge you not to rest on your oars but to rise high in your chosen profession. You are all urged to learn more from your elders who have accumulated strong on-the-job experiences over a long period of time," said said the minister.
He added that as they go out to carry out their duties, they should view themselves as agents of change and conduct themselves in a professional manner, which will enhance public trust and foster a cohesive partnership with the public that 'they serve.
"Regularly familiarize yourself with the principles of your noble profession in order to demonstrate the highest level of professionalism at all times.
Mr. Dery also reiterated the government's continued support to prioritize the retooling of the GNFS to enable it to keep pace to deliver on its core mandate.
"The many firefighting and fire prevention interventions the department has made that have resulted in reduced fire statistics are a testament to the good work of the department, ably led by the fire chief," he observed.
The minister used the medium and advised the general public to develop a change in attitude to enable the country to achieve full circle fire safety.
Recruit firefighter Kenneth Saah was named top overall recruit while RFM Innocent K. Tornyeavah received the Best in Academics award.
Again, RFM Godfred Adu Larbi won the Best in Foot Drill award and RFW Esson Adjoa Judy won the Commanders award.
Among the dignitaries present are the Home Secretary, the Chairman of the GNFS Board, the Fire Chief and some former Fire Chiefs, Deputy and other senior officers of the service.