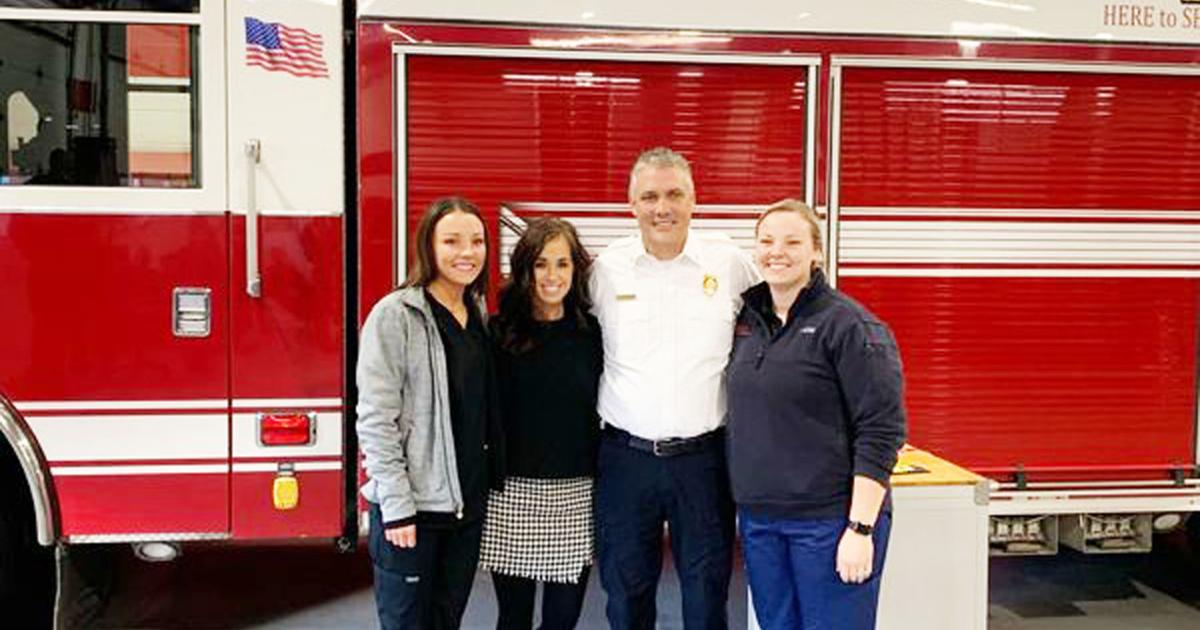 Name deletion | Among the final functions of official Christie: Parade Grand Marshal | Columns
William Pierce has never forgotten the kindness and care an Air Force medic in Libya, North Africa gave him after Pierce broke his arm as a child .
Pierce lived in Ankara, Turkey, with his family as his father was stationed there in the US military.
Pierce was at bed rest in traction for six weeks.
"My dad was a career army officer," Pierce said. "I had to be evacuated to Libya. There was a nurse who befriended me a bit. I thought it was so cool that he is developing this relationship.
"He spent time talking with me and being a real person. It was not all medical. This development with a patient was really the key to wanting to be like him.
Pierce was able to put into practice what he learned when he became a doctor after spending several years in the military. He is the Chief Medical Officer of the Christie Clinic, responsible for approximately 190 medical staff.
Pierce will serve as Grand Marshal for Saturday night's Parade of Lights in downtown Champaign.
Presented by Christie Clinic and organized by the Champaign Center, the parade will start at 6 p.m. This year's theme is "Blue Christmas / Holidays".
A man of easygoing and friendly manners, Pierce said his role as Grand Marshal was to "wave royal, smile and drink hot chocolate."
The parade duty for the 72-year-old comes about a month before his retirement.
Pierce grew up all over the world because of the military. Her mother served as a nursing nurse during World War II. Among the family's stops was Japan during the post-war occupation.
Pierce has lived in Champaign the longest – he moved here after his residency in Ottawa Ill., Starting the Department of Food and Ankle Surgery at Christie. He served on Christie's Board of Directors for 12 years and was appointed Chief Medical Officer 14 years ago.
One thing that attracted him to Christie Clinic was his ability to focus on the needs of the patient.
"My predecessor said, 'This is what we want to continue doing at Christie.' We have found that by developing a relationship in the medical world, patient compliance is more effective. It's about making the patient understand that we care about them.
Pierce said he lectures every new employee, telling them that showing patients that they care about them motivates them to take better care of themselves.
"It sounds strange, but I see doctors who are wanted by patients. The key ingredient is not therapy or education, but the relationship.
Melissa Tepovich, director of marketing and public relations for the Christie Clinic who sits on the Parade of Lights committee, said Pierce has played a key role in the clinic's COVID-19 efforts – from assisting with interpretation and to disseminating advice to truly care about the well-being "of providers, team members, patients and the community at large.
Prior to his medical service, Pierce was a captain of the United States Army in armor and air force and flew in the Illinois Army National Guard. He retired with 20 years of service.
Pierce said that sometimes someone would mention a certain other Dr. Pierce from the "M * A * S * H" TV show, set in Korea during the Korean War in the early 1950s.
"I don't care a bit about that," he said.
Pierce said he was deployed at one point in Korea and visited the 4077th medical unit in 1972 which was still active.
Ironically, one of his jobs was to fly helicopters.
Pierce said during his tenure at Christie that his leadership staff were to answer the question at a leadership conference: "How are we responsible for health care in Champaign-Urbana? "
"It was a tough question," Pierce said. "We said, 'We are not responsible. We're playing a game. We don't send our patients to Carle because he was a competitor. And we don't use this, and we don't use that.
"So we said, 'We're not going to play this game anymore.' That's when we became part of the Carle staff and the HMO staff.
Pierce said it was decided that Christie would compete with service and quality, and he said he believed this helped Champaign-Urbana and the rest of the medical community come together.
"When I first came here there were five hospitals," Pierce said. "Health care is changing.
He said he invited the leaders of the two remaining UC hospitals to participate in this leadership training.
"These principles have also been used to sit down and talk with people, patients, doctors and other people… and help them move forward," he said.
Pierce is also active in his church, Meadowbrook Community Church in southwest Champaign. He and his wife Connie have three children.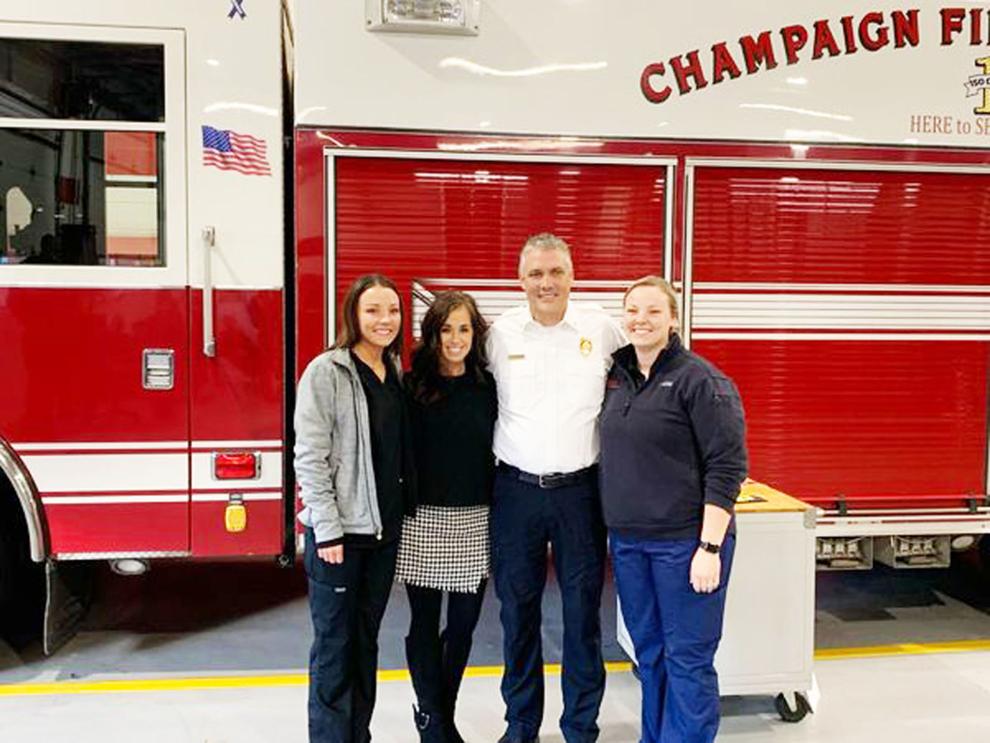 Hocking promoted to battalion commander
John Hocking was promoted from captain to battalion commander with the Champaign fire department.
His wife, Shelley, and two of his daughters were able to pin his new badges on him at a recent ceremony.
Hocking has worked in the Champaign Fire Department for 28 years. He served six years as a firefighter in the Air Force, including four years with the Chanute Air Base Department.
He is one of the three battalion commanders in the Champaign department, one for each shift.
The battalion chiefs are responsible for the six fire stations. They get into the command car and serve as the incident commander on calls.
Hocking has five children.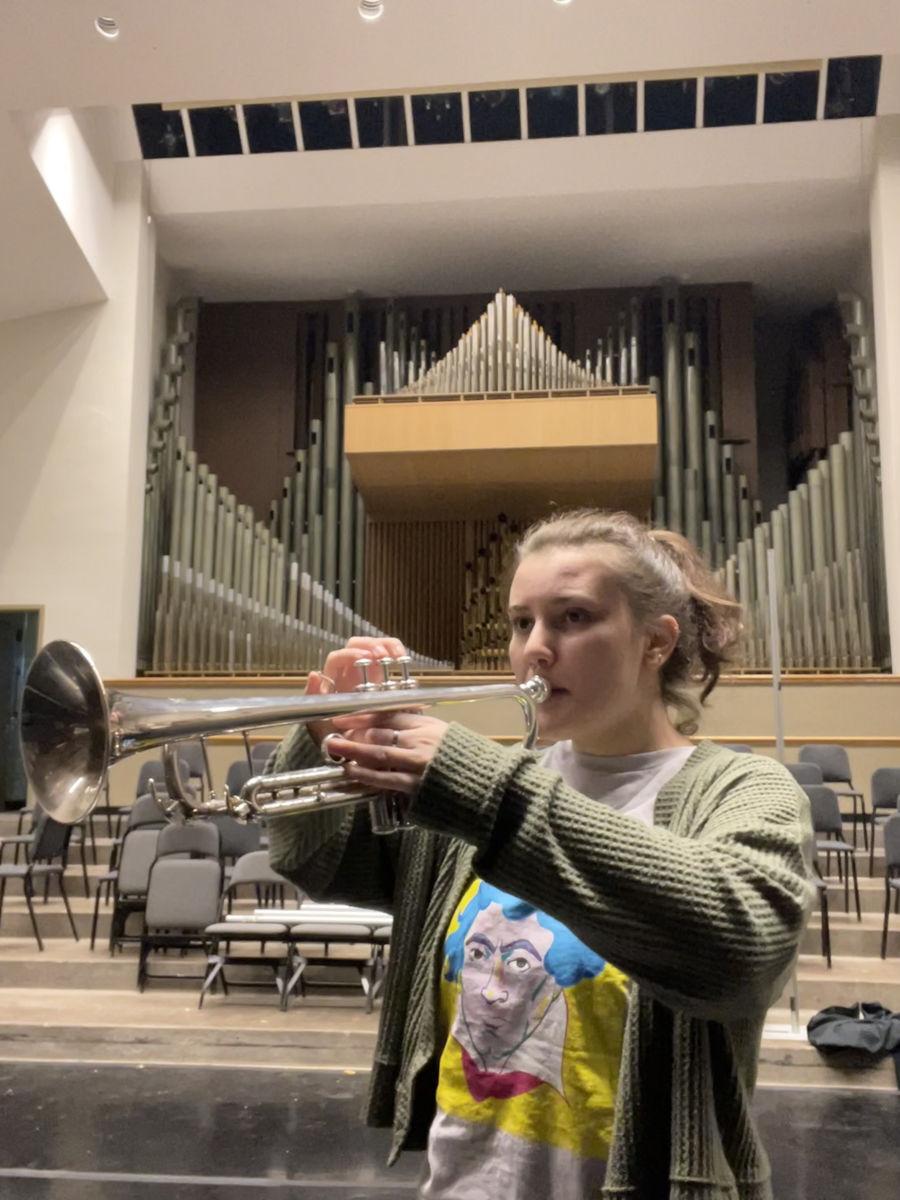 Smith to host Christmas event in Augustana
Lily Smith of Savoy will perform with the Augustana College Brass Ensemble on December 4 and 5 when the Department of Music presents Christmas to Augustana at Centennial Hall.
The event returns live after a one-year hiatus.
Christmas in Augustana has been performed in shows sold for over a decade.
Student musicians will take the stage to showcase their talents in what has become a highlight of the Augustana and Quad Cities holiday season.
In addition to the brass ensemble, the show will feature the College Symphony Orchestra, Ascension Bells, Choir, Jerry Lind Vocal Ensemble and Concert Chorale.
After the performance has been offered in a virtual format in 2020, the college's music department is ready to be on stage again.
"We are delighted to be able to sing at Centennial Hall again this year," said Jon Hurty, director of the Augustana choir. "Students and directors are really looking forward to sharing our Christmas music, live and in person. "
Quad Cities ABC affiliate WQAD will broadcast Saturday's performance live online at Augustana.edu. It will be rebroadcast in the Quad Cities area at 11 a.m. on Christmas Day.
Busch appointed branch manager
United Rentals has appointed Carl Busch as the new Urbana branch manager.
Busch will be responsible for the operations and growth of the branch.
The branch's service area is east central Illinois and western Indiana.
Born and raised in the Champaign area, Busch attended Booker T. Washington Elementary School, Edison Middle School, Champaign Central High School, and Southern Illinois University-Carbondale.
Previously, he worked in the logistics and supply chain industry for the past 20 years.
Busch resides in Urbana with his wife Kelly.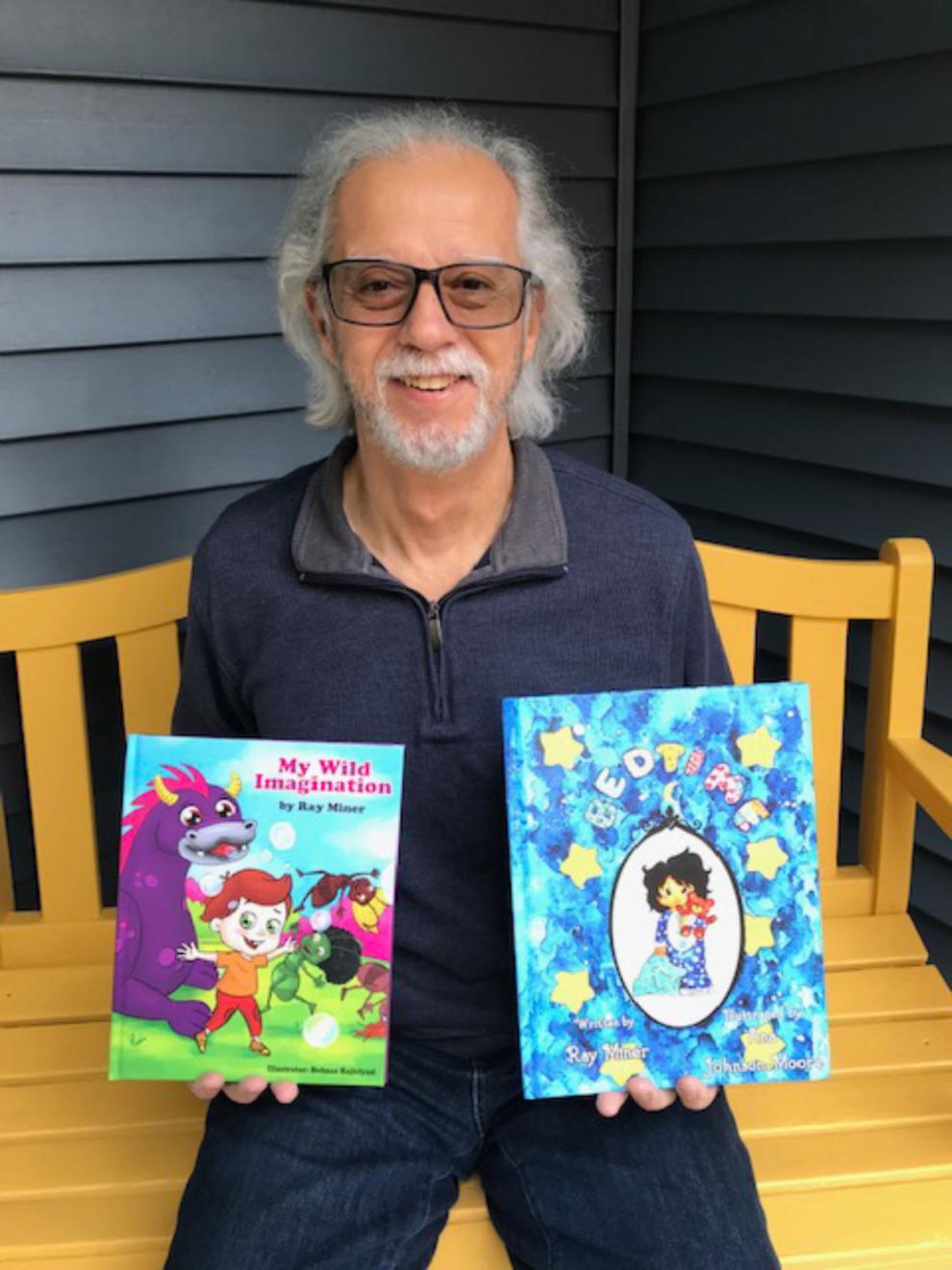 Miner publishes children's books
Ray Miner, former guidance counselor at Rantoul Township High School and later Urbana High School, has published two children's picture books, "Bedtime" and "My Wild Imagination".
They are available from Barnes and Noble in Champaign or can be ordered online through BN or Amazon. They are also available at the cash desk at the free Urbana library and the Rantoul public library and by interlibrary loan.
Originally from Robinson, Miner spent 30 years teaching as a guidance counselor. He has written and recorded a number of songs, many of which can be heard on YouTube, including several from the "Old Dog, New Tricks" CD.
He wrote several Christmas songs recorded by Briana Kay on the CD "It's Christmas" and a single for the Easter season, "He is Risen", by Alyssa Diggs.
Miner also wrote poems for his two daughters and those of his wife. After two of the poems were published in Bunbury Magazine in the UK, he decided to focus on turning his poetry into illustrated children's books. He has also published an adult fiction story, "Lemonade," which is available on Amazon Kindle.
Wines inducted into company honors
Loise Wines of Rantoul, a student at Blackburn College, has been inducted into the college chapter of Alpha Psi Omega.
A national honor society, Alpha Psi Omega recognizes outstanding achievement by students in theatrical production.
During the November ceremony, Wines and 24 other Blackburn students were celebrated for their academic achievements.
Karen Dillon, an English teacher, hosted the event, which included a keynote address by Provost Karla McCain, who spoke about the wisdom surrounding success both in and outside the classroom.
Muhammad's man takes over the presidency of the church
A change of leadership has been announced in the Church of Jesus Christ of Latter-day Saints Champaign stake.
The newly appointed presidency includes Michael Bednar of Muhammad as president and William Fulton of Perrysville, Indiana, and Jessen Hobson of Champaign as advisers.
Bednar is Associate Professor of Business Administration at the Gies College of Business at the University of Illinois.
Fulton owns a local Terminex franchise and construction company in Perrysville, and Hobson is a professor of accounting at Gies College of Business.
The outgoing presidency included Jeffrey Stowell of Charleston and Bednar.
The Champaign Stake is made up of 10 congregations in the east-central Illinois region.