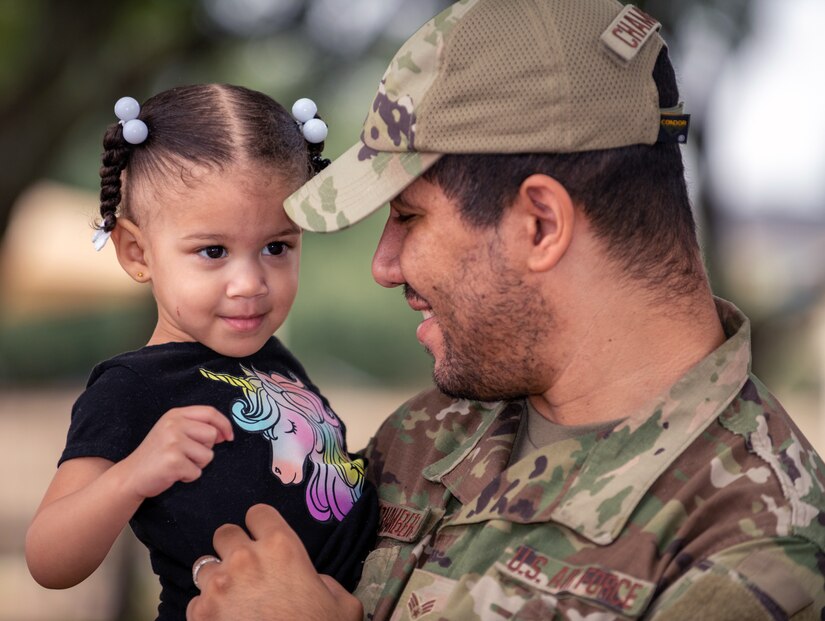 The daughter of an aviator rescued by the firefighter JBSA-Lackland> Sixteenth Air Force (Air Forces Cyber)> News
JOINT BASE SAN ANTONIO-LACKLAND, TX –
"The whole time I'm wearing it, I can feel it fade away… choking, searching for air, as well as some blood coming out of its mouth."
On August 18, Senior Airman Brian Chambers found his daughter choking and drove her to Fire Station 1 at Joint Base San Antonio-Lackland.
Jacob Mathie, chief firefighter of the 502nd Wing at JBSA-Lackland Air Force Base, was able to perform the first response triage and unblock the child's airways.
Chambers, a contract specialist with the 502nd Contracting Squadron, had grilled the night before and one Thursday night his wife was eating leftovers. He was upstairs when he heard something that no parent wants to hear.
"I heard my wife scream 'she can't breathe, she can't breathe'," Chambers said. "I ran downstairs and my wife was trying to give him CPR."
The woman was holding their youngest child, so Chambers resumed attempts at CPR. He couldn't clear the blockage.
"I wasn't trained in CPR, but I was trying to do what I saw," Chambers said. "I even tried to pull it out of his throat, but it didn't work either. At that point, I could see some blood in his mouth.
Chambers made the decision to take her to the hospital. Along the way, he began to calculate the time needed to get to the emergency room and get medical attention. He feared this was the time he didn't have.
"To get there, park, wear it inside, then tell them what's going on – it would take too long," Chambers said. "So I decided to take her to the fire station. "
As he got to the fire station, he could feel his child pass out. It was then that he came into contact with Mathie, a person not only familiar with first responder CPR but also a CPR instructor.
"I had just finished training and was doing laundry, which is in our stalls, when a vehicle pulled up in front, banging the horn," said Mathie. "A gentleman jumps out of his car holding a soft blue baby that isn't moving or breathing – he hands the baby to me and says 'help me.'
After determining what had happened, Mathie began CPR.
"After about a set and a half of Heimlich, I managed to get the hot dog out of his throat," Mathie said. "I rubbed her chest to make her breathe, and she started to breathe."
Mathie reports that the color has started to come back, but they loaded it into an ambulance to have it fully examined.
Chambers said her daughter appeared almost instantly as if nothing had happened, but the hospital visit confirmed that she was fine. He did indicate, however, that hot dogs were off the menu for a while.
Parents interested in CPR classes can contact the American Red Cross for classes near them.