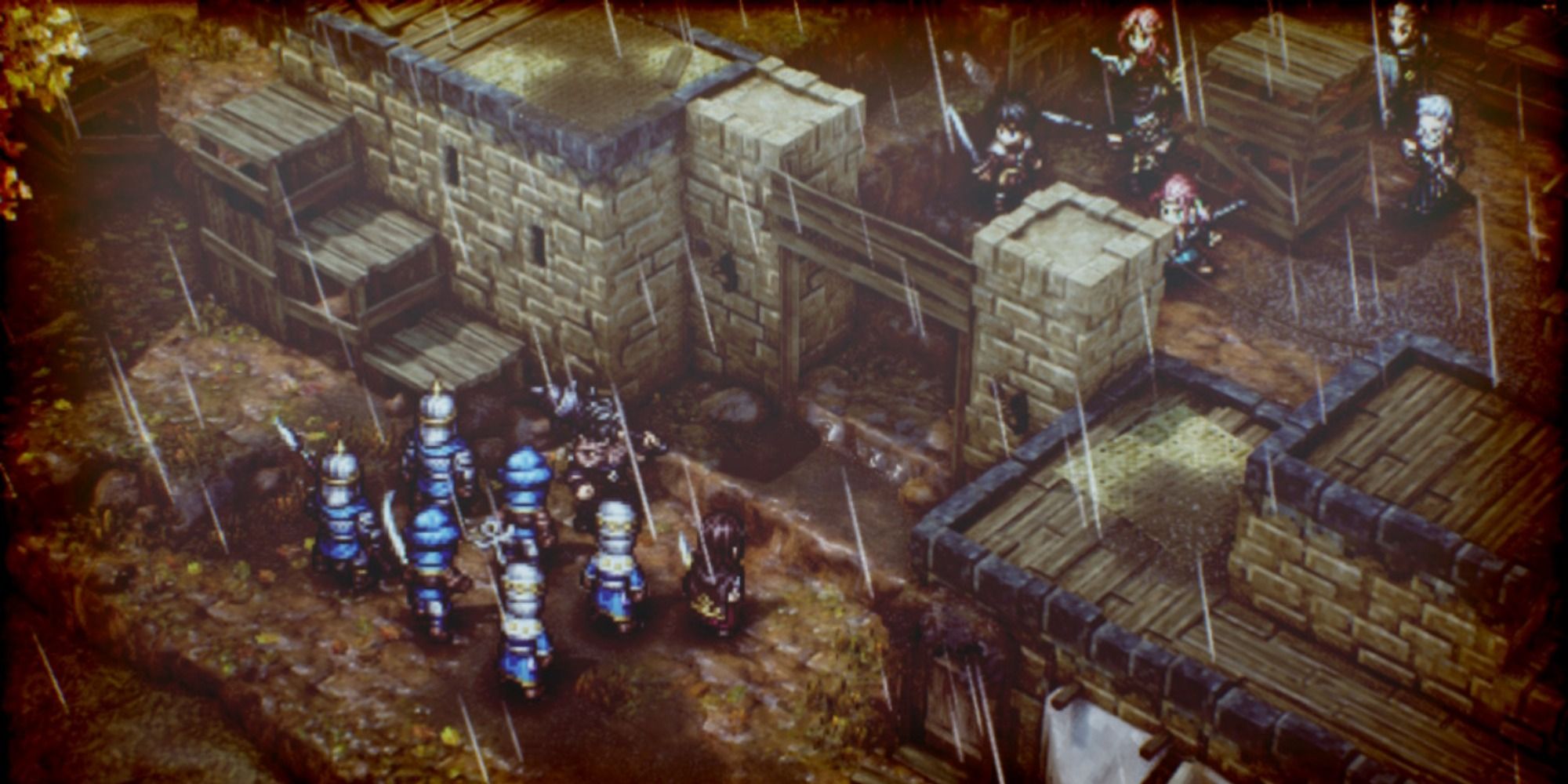 Triangle Strategy: Chapter 12 – Challenge and Discouragement Strategy
Triangle strategy reaches dramatic new heights in its twelfth chapter. After attacking the village of Rosellan in Chapter 11 out of necessity, Serenoa and co. succeeded in convincing Jerrom, the leader of Roselle, to listen to them.
RELATED: Triangle Strategy: Kudos Farming Tips
However, things don't stay peaceful for long as Silvio Telliore reveals his hand and attacks the village. That one can't do any good, can it? You're ready for another battle early on, but with our tips and tricks, you'll sail to the end and come out the other side sparkling. Hopefully the same can be said for the Rosellans.
Battle Event: Rosellan Village
In a stunning turn of events, the battle of the last chapter is reversed and we defend the village of Rosellan against invaders. You face Silvio's dog, Rufus, and Hyzantian soldiers this time.
Preview of the battle
Recommended level
19
enemies
Silvio, Rufus, 3x Hyzantian Archer, 3x Hyzantian Blade, 2x Hyzantian Shieldbearer, 2x Hyzantian Battlemage, 1x Hyzantian Healer, 1x Hyzantian Pikeman
Deployment
Deployment limit: 10 Units
Compulsory units: Serenoa
Invited units: Jerrom
Recommended units: Erador, Archibald, Ezana, Hughette, Rodolphe, Narve
Goal
Defeat all enemies.
Booty
Earring of Resurrection
Money
Azure Crystal
Difficulty
★★★★☆ (4/5)
The first thing you'll notice about this fight is that it's the first time you can actually fight Silvio on the battlefield, and it's probably something you've been waiting for quite a long time. Have fun.
Rosellan Village Combat Strategy
Unit placement is going to be key in a battle like this, so take note of your surroundings. You can place units on either side of the battlefield, though the right section (where Jerrom started the last battle) is a bit removed from the action. Think about that when placing characters here.
There are a few units starting behind you, and there is a ladder that will allow them to get your units this side of the battlefield in a pincer movement. To stop this, you need someone standing at the top of the ladder as soon as you can. Use the Vanguard Scarf or Quietus Lightwave position someone there at the very beginning of the battle to prevent such shenanigans. Archers like Archibald or Rudolph would be the best because they can launch big attacks from such a height.
As it rains, units that can evoke flash can be put to good use in this battle, especially if they target units at the gate. Ezana and Narva are very fragile, so they may not last long, but they can deal a lot of damage before anything happens to them. Alternatively, you can use Thunderstones if you find the opportunity. Beware of friendly fire, however, as the spreading lightning effect does not discriminate.
Rufus is still boring in this fight. Even if you prevent him from climbing the ranks (and you really, really should), he can use his Ground attack to shoot the characters you have standing above him. It does a lot of damage but should be something you can heal. With this strategy, taking down Rufus is likely to reduce him until units from other areas of the fight can come and finish him off.
the Healers are also a great hindrance in this battle. Try to deal with them quickly, either by heading straight for them and taking them out, or by using status effects such as sleep or paralysis. Likewise, the War Mages will be a priority target here. They can pump out some really damaging spells that you'll really want to nip in the bud.
Silvio himself, on the other hand, is not too threatening. It can buff enemies and inflict Fury on your units, but its damage is low and it goes down easily in a few rounds of focused attacks. Its most annoying ability is TP Break, which reduces the target's TP by one, but it's a temporary setback at best.
With proper application of ranged attacks and elemental damage, you should emerge victorious from this battle quite easily. Rufus is likely to take out some units along the way, but the momentum is easily seized.
With the battle over and Silvio defeated, it's up to Rufus to deliver the chilling news the Hyzantians already know of Serenoa's betrayal. The Roselles place their trust in Serenoa and decide to return to the Holy State of Hyzante as a reward for their protection and loyalty.
Main Story: Central Hyzante
After a quick discussion of what their next moves should be, Serenoa encounters the Hierophant and the Saintly Seven again.
Side Story: Central Hyzante
After an absence from the story, Lyla delivers a message to the dancer who engaged Silvio earlier.
Main Story: Hierophant's Palace
At a so-called Congress of Saints, Serenoa pleads with the rest of the Seven Saints to take Aesfrosti's current trade embargo more seriously. When the subject of who would rule Glenbrook in the event of Aesfrost's defeat, a certain person speaks up.
Main Story: Whiteholm Castle
Back in the Whiteholm throne room, we learn that Gustadolph is returning to Aesfrost. The Mean Twins say mean things, Cordelia fights back once again, and we learn a bit about that "death knell." With that, the chapter is over.
The new Eeveelution has already been practically confirmed by the anime
Read more
About the Author