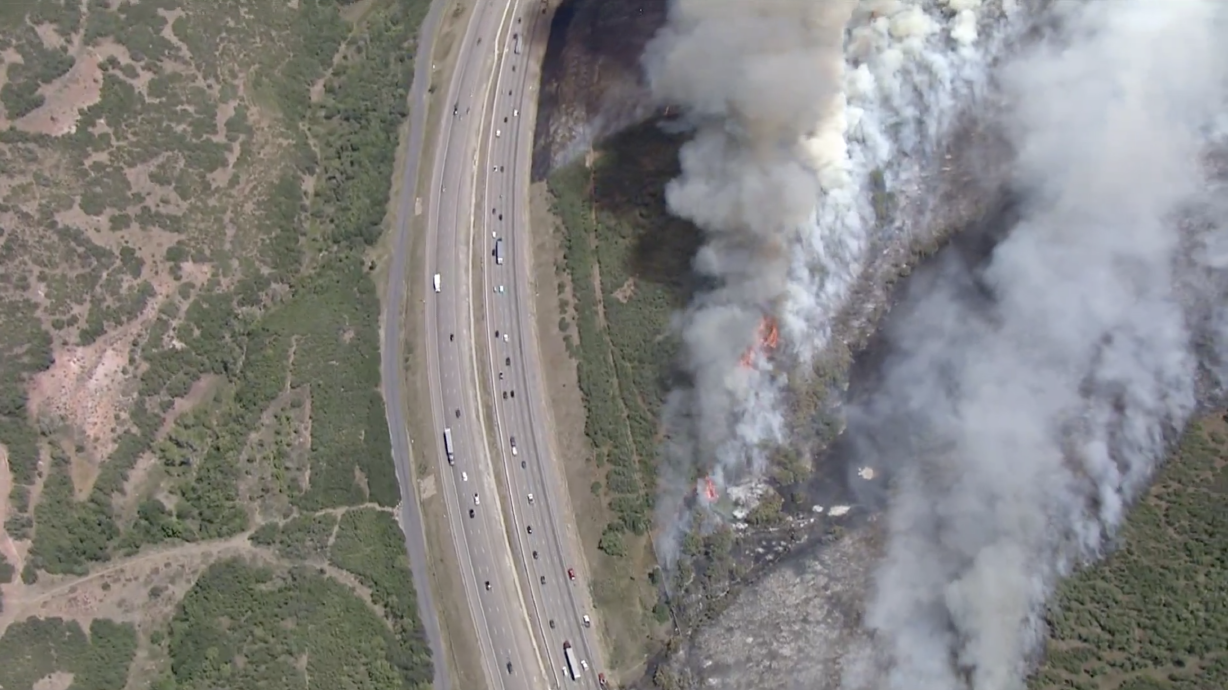 Utah's traditional fire season is over. This is how it went this year
Firefighters respond to the Parley's Canyon blaze as the blaze rages near I-80 on August 14. The blaze was one of 202 man-made wildfires in Utah after June 30, as the percentage of man-made fires declined. (Chopper 5, KSL-TV)
Estimated reading time: 7-8 minutes
SALT LAKE CITY – Utah leaders and firefighters from various agencies gathered near the mouth of City Creek Canyon in late April with a simple message as the state's drought worsened and crews watched an unprecedented amount of man-made forest fires.
"Utah is dry right now," Brian Steed, executive director of the Utah Department of Natural Resources, said at the event. "We don't expect it to get any better. Please help us not to burn down the state."
It seems the Utahns took this message to heart. Even before the welcome return of rain to the state, state firefighters have noticed a drop in man-made fires. What was feared to be one of the worst fire seasons in Utah history turned out to be a relatively active but ultimately successful season, all things considered.
Inside the data
Utah's traditional "fire season" ended Sunday with numbers much better than the trends reported in April. The Utah Forestry Fire & State Lands reports that there have been 1,131 fires at the end of the season this year, about 3.5% above the 10-year average of Oct. 31, but a drop of 24% by compared to the same point last year. These fires burned 63,792 acres statewide.
Additionally, the division reports that about 50% of forest fires this year are man-made. That's higher than some previous years, but a massive drop from last year and trends heading into summer. The cost of putting out fires this year is around $ 43 million, but it's also a big drop from 2020.
Of the 1,131 fires, most occurred in southern or central Utah, according to data published on the Utah Wildfire Dashboard, a joint venture of the Bureau of Land Management and the Utah Forestry Fire & State Lands. Data shows Washington County leading the way with 106 fires, followed by San Juan (92), Iron (87), Uintah (83) and Kane (78) counties.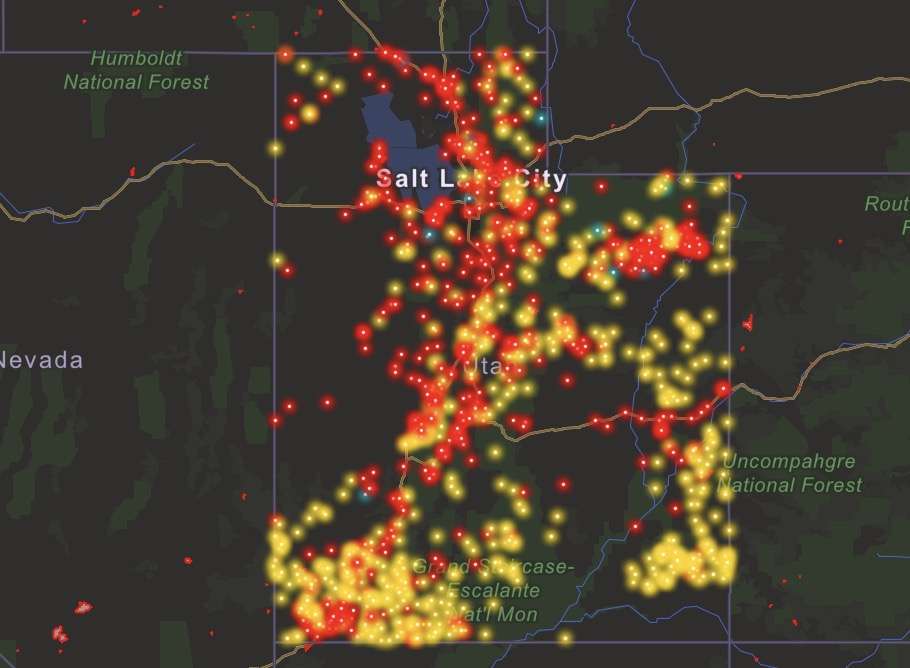 But as the burnt acres indicate, most of the fires were small this year. The average fire on Sunday was only 56.4 acres. This is down from about 204.5 acres in 2020. Kayli Yardley, statewide prevention specialist for the Utah Forestry Fire & State Lands, said fighting the fires was " a huge success "and helped reduce that number. An incredible 93.2% of the fires were contained under 10 acres, the data showed.
There haven't been many major fires this year either. In a year that sparked catastrophic fires in California and Oregon, Utah saw just eight fires over 1,000 acres; of these, only two have exceeded 10,000 acres this year to date. There have been three fires that burned more than 50,000 acres each during Utah's busy 2018 season, which experts feared 2021 could happen again.
Ten biggest fires in Utah in 2021 (through October 31)
Flat : 14,366 acres in Washington County. The naturally occurring fire was first reported on June 18.
Bear: 12,174 acres in Carbon County. The naturally occurring fire was first reported on June 8.
Stream Pack: 8,952 acres in northern San Juan County. The man-made fire was first reported on June 9.
Bennion Creek: 8,313 acres in Utah County. The naturally occurring fire was first reported on June 4.
Small Pass: 2,186 acres in Tooele County. The man-made fire was first reported on April 4.
UT: 1,834.5 acres in Box Elder County. The man-made fire was first reported on March 30.
North River: 1,751 acres in Duchesne and Uintah counties. The fire of undetermined cause was first reported on March 28.
Heritage: 1,471 acres in Davis County. The naturally occurring fire was first reported on September 10.
Myton East: 953.7 acres in Duchesne County. The man-made fire was first reported on March 29.
East Canyon: 835 acres in Morgan County. The man-made fire was first reported on June 8.
Source:Utah Forest Fire Dashboard
Additionally, all but one of the 10 largest fires to date have broken out after June. But this is due to the collaboration between man and nature.
How the fears of fire were extinguished
Utah wildfire officials feared the worst this year based on two troubling trends that emerged ahead of the typical fire season.
First, the statewide drought. The 2020 calendar year was the driest on record in Utah, and then the state's snowpack fell below average. Add in a below-normal spring, and firefighters statewide have reported "dry" conditions across the landscape, the worst they have ever encountered.
As of mid-April, the state had already faced 227 fires that burned more than 8,000 acres. It was far ahead of any previous year before the first season and more acres burned in the first three and a half months of 2021 than in the same period in the previous five years combined.
Then there was another surprising trend: man-made fires. The state broke an unwanted record last year with 78% of more than 1,500 man-made fires. The percentage in 2021 rose to over 95% in June, ahead of the July holiday fireworks season.
Gov. Spencer Cox has pleaded for the Utahns not to launch personal fireworks while state firefighters have launched an aggressive public service announcement campaign on man-made fires.
"We want people to have a good time and celebrate," the governor said ahead of Independence Day. "You can do this without blowing up stuff in your backyard. There are other ways to celebrate."
But then two slightly unexpected trends emerged that saved Utah from disaster this year.
It appears that the pleading and public service announcements have paid off throughout the month of July. Firefighters responded to far fewer fires set off by fireworks during the July 4 and Pioneer Day holidays; in fact, fires caused by human activity have decreased significantly in this month compared to recent years.
Man-made fires have only accounted for 30% of statewide wildfires since a report on Utah State Wildfires and Land on June 30. Yardley says she believes the people of Utah saw the drought conditions and quickly associated it with the danger of fire, which led to that fall. . The campaign, she said, has helped teach residents about the different things that can start a man-made fire, such as dragging equipment on the roads, leaving a campfire unattended, shooting close to target. rocks and launch fireworks.
"I think it was a huge success," she said. "I want this to continue. I would love to keep bragging about how great this campaign was.… We were able to reach a wider audience with the help of the Governor and the Lieutenant Governor. I think it's really bringing success. people to realize and think, "Yes, it is my responsibility to practice fire safety."
Then came the rain. When the fire season began in early summer, meteorologists were still not entirely sure if the rain would return this year. But the monsoons that hadn't arrived in Utah last summer have returned. There was even enough humidity that local, state and federal agencies could lift all manner of fire restrictions even before Labor Day weekend.
Recent storms off the Pacific Ocean have helped continue to bring moisture to the state. This has contributed to the decline in man-made fires and the frequency of fires in Utah.
"Sometimes it works in our favor, sometimes it doesn't," Yardley said of the changing weather conditions.
Not finished yet?
There are no active fires at the moment, according to state and federal agencies. But despite the monsoon rains and recent atmospheric fluvial activity, the threat of fire persists.
Yardley points out that rain is beneficial because it now dampens dry fuels, but it can hamper long-term firefighting efforts as it grows vegetation that can dry out if the rain is not persistent. Ironically, the drought helped the efforts slightly as it hampered vegetation growth, she added.
All of this contributes to a new mindset for firefighters in Utah and the West. For years, the state has had a "fire season" that lasts from mid-April to the end of October. But then, with warmer and drier conditions in recent years, they received reports of fires in November and December. This year's fire season started just weeks before 2021 and three of the 10 biggest fires to date broke out in March.
"It's not even a fire season anymore. We call it a fire year.,"Yardley said." This is the mindset that we have to instill in people. "
That's why the division continues to carry the Fire Sense message outdoors, even though it has cut back on its ads. Yardley urges people going outdoors to always follow the basics, such as not leaving a fire unattended or burning debris in dry areas.
"We'll see what next year brings, in terms of the weather, what kind of fuel is produced and see if we still get that kind of response from the public in terms of man-made starts," he said. she adds. "If we continue to see a downward trend, so much the better. I'd love to see that.… We should always practice forest fire safety all year round. That's the key message."
×
Related stories
More stories that might interest you